There's Plenty to Love About Brentwood, the Hidden Gem of Los Angeles' Vaunted Westside Region
When you think about Los Angeles' Westside and its collection of ritzy and glamorous neighborhoods, what comes to mind?
The posh opulence of Beverly Hills?
The rarefied environs of Bel Air?
The coastal elegance of Pacific Palisades?
What about the quiet, tree-lined streets of Brentwood?
No, Brentwood may not garner the glamorous headlines of its ultra-luxe siblings, but this private, upscale community is every bit as dazzling as those more well-known locales. It's difficult to discount a place where famous past and present residents include: Steve McQueen, Marilyn Monroe, Cindy Crawford, Harrison Ford, Jennifer Garner, and Tom Brady and Giselle Bündchen.
Located just west of the 405, Brentwood is a bridge of sorts between the City of Los Angeles and the coastal communities of Santa Monica and Malibu, which is what makes Brentwood such an ideal spot to lay down roots. With great neighborhoods, a central location, and plenty to do and see—once you're here, it's hard to leave.
Here are five reasons people love Brentwood.
Brentwood Neighborhoods
Brentwood is an established, tucked-away gem that doesn't mind deflecting attention elsewhere. As one of Los Angeles' wealthiest and quietest communities, it comes as no surprise that it's also one of its most livable.
Much of the love and allure for Brentwood stems from the collection of beautiful neighborhoods throughout the area. You won't find too many new, up-and-coming collectives, nor will you stumble across anything that is dilapidated, crumbling, and past its prime. This esteemed area is coveted for its mature landscaping on extra-large lots, prestigious reputation, and older, classic ambiance. It's no wonder that it's home to many notable residents.
Each neighborhood is unique, near top public and private schools, and boasts access to countless outdoor riches. Regardless of your style and tastes, you're sure to find something to love in each one.
Along Brentwood's southern end is the "Brent" collection of neighborhoods—Brentwood Glen, Brentwood Heights, and Brentwood Park.
Brentwood Glen has a diverse mix of single-family homes, duplexes, and triplexes. It's also the nearest Brentwood community to UCLA.
Brentwood Heights and its twin enclave of Westgate Heights each offer a lot of variety in homes. While mid-century moderns stand out here (as it does across Los Angeles), other home styles include Cape Cod, Mediterranean, and traditional ranch.
For its part, Brentwood Park caters to those who love large lots set amongst lush landscapes. The golfing set will find this part of the community particularly appealing as it's just a few minutes' drive to Brentwood and Riviera Country Clubs.
If you're looking for seclusion and privacy, Brentwood offers plenty of both. Brentwood Circle, Brentwood Country Estates, and Mountaingate all provide upscale living behind controlled access gates.
Not to be left out are Brentwood's northernmost neighborhoods extending up into the Santa Monica Mountains. Stunning homesites and breathtaking views are the rules for estates located in Kenter, Mandeville, and Sullivan Canyons.
Kenter Canyon is of particular distinction since it's home to the Crestwood Hills neighborhood. First established as an enclave for musicians, it is now recognized by the State of California for its architectural distinction, with homes that exemplify the purest form of classic mid-century modern.
Equally idyllic, Sullivan Canyon is a picturesque locale for equestrian aficionados. To the north, the homes stretching along Mandeville Canyon Road are remote Santa Monica Mountain living at its best.
Central Location
One of the central draws to Brentwood is, well, its central location. More so than practically any other Los Angeles community, Brentwood is close to it all.
The best of the Sunset Strip and Wilshire Boulevard—the bars and restaurants, the nightlife, the rubbing elbows with celebrities and the well-to-do—is moments away in Beverly Hills. The best part is you can leave all that there when you venture back into the cozy enclave of Brentwood.
Work in downtown Los Angeles? It's a 30-minute drive away. So is Hollywood. Traveling to LAX takes a similar amount of time.
Have business in Culver City or Century City? They're 20 and 15 minutes away, respectively.
UCLA is right in Brentwood's backyard—five to ten minutes to the campus from anywhere in the community. USC is a straightforward 20 minutes to the east.
Heading towards the Pacific? Pacific Palisades, Santa Monica, and Venice Beach are all reachable in fewer than seven miles. If you're taking a day trip to Malibu, leave by 9 AM...
You get the idea.
Wherever your destination in the greater Los Angeles area is—in Westside, the coastal communities along the Pacific, or heading back towards the city—if your trip starts in Brentwood, you'll get where you need to be in no time.
Diversity & Culture
There's no shortage of culture one can find in and around Los Angeles—it's home to over 850 museums, countless architectural marvels, thriving literary, music, and visual art scenes, and, of course, Hollywood.
Brentwood makes its mark among L.A. communities with some impressive cultural bonafides. Considering its proximity to UCLA, there is a vibrant mix of young and old here, which helps infuse the area with a diverse sensibility.
The community's most famous cultural attraction is the Getty Center.
Designed by renowned architect Richard Meier, the 24-acre Getty Center is an impressive marvel of art, architecture, and horticulture that sits atop Los Angeles on a 110-acre campus.
Home to the J. Paul Getty permanent collection, the Getty features some of the world's most foundational works of art dating from the pre-1600 Middle Ages onto the Renaissance and into the 19th and 20th centuries. The collection centers on drawings, paintings, photography, and sculpture. Itself a work of art, the Getty Center also features a 134,000 square foot garden, which visitors can walk through.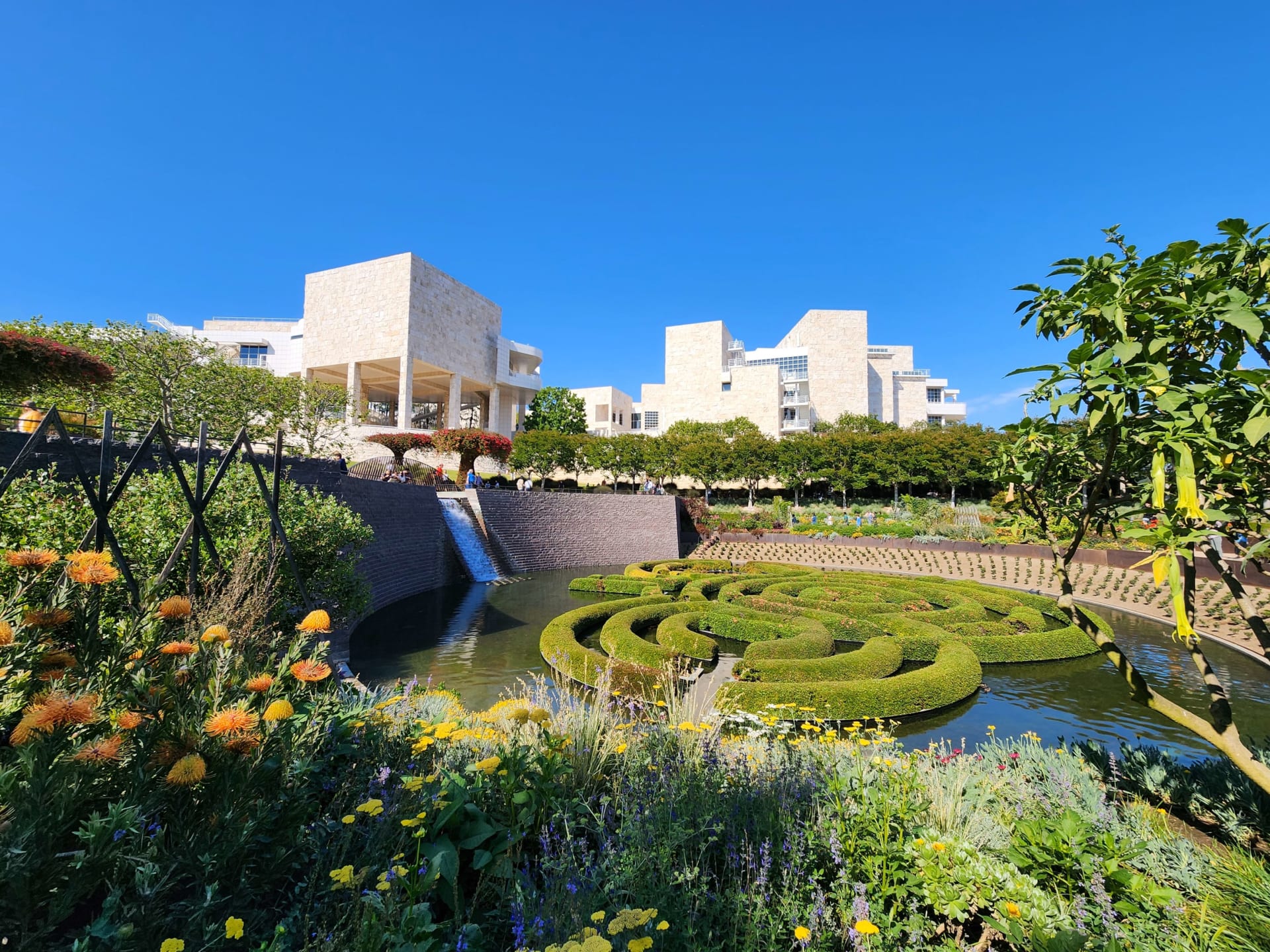 The Getty Center is a renowned cultural attraction in Brentwood
With such a world-class facility, it would be easy to sleep on some of Brentwood's other attractions. Highlights include the Skirball Cultural Center, a celebration of Jewish culture just north of the Getty Center.
Elsewhere, two architectural gems dot the Brentwood landscape. The George Sturges House is a Frank Lloyd Wright Usonian-design from 1939 and a designated Los Angeles Historic-Cultural Monument. The nearby Nesbitt House boasts a 1947 mid-century modern designed by Richard Neutra.
For a bit of Hollywood architectural lore, the exterior shots of the home from The Golden Girls television show didn't come from a home in Miami, but one along Saltair Avenue in Brentwood.
For an experience straight out of 1950s Americana, the historic Brentwood Country Market is a must-visit. Individuals with more modern sensibilities will enjoy the expanse of San Vicente Boulevard from Los Angeles National Veterans Park to Bundy Drive, which features a wonderfully diverse food scene.
Outdoor Recreation
We've already noted its proximity to the best of Los Angeles dining, entertainment, and nightlife, but this location lends itself to a lot of non-Hollywood pursuits, too. In fact, one of Brentwood's most underappreciated aspects is what it offers for outdoor enthusiasts. Those with a love of nature and who want to keep the fast-paced L.A. lifestyle at arm's length will find their ideal match here.
Brentwood's most prominent recreation spot sits at its northernmost border—the Westridge Canyonback Wilderness Park. With over 1,500 acres of vast open space, the park is part of the larger "Big Wild," a 20,000-acre urban open space stretching across the Santa Monica Mountains. Westridge Canyonback features nearly 40 miles of hiking trails and a number of beautiful vistas and views of the surrounding canyons and mountains and city below.
In Brentwood's southern region, the recreational pursuits are more in line with traditional Hollywood pastimes, namely golf and tennis. The Brentwood Country Club is one of the region's true power clubs, with a highly playable course and an A-list roster of members. It's also family-friendly, with an outstanding pool and six tennis courts.
Along with Rivera, which sits just beyond Brentwood's western edge, and Bel Air Country Club to the northeast, Brentwood makes up a trifecta of exclusive, well-heeled clubs within 5 miles of each other.
The Weather
Finally, you can't mention the outdoors, or really talk about any place in Southern California, without giving a nod to the climate.
While extremes, of course, exist, with a location that's right in the sweet spot of ideal SoCal weather, Brentwood offers enviable conditions year-round.
The "rainy" season runs from December to March and constitutes an average of four wet days per month. Temperatures during this time range between the mid-50s and upper-60s—certainly a far cry from the frigid air that grips the rest of the country during the winter.
Ideal conditions—relatively speaking—emerge in April and last into November. During this time, your daytime highs level off in the 70s. Nighttime lows hug the mid-60s. And when it rains—if it rains at all—it's merely a brief appearance of an early spring or late fall shower. After all, you should expect this from a place that averages nearly 300 sunny days per year.
Indeed, if you want to live in an area of Los Angeles that's close to everything with outstanding neighborhoods, culture, and things to do, then there's a lot to love about Brentwood.
Interested in finding that picture-perfect home in Brentwood? Want to explore the surrounding communities of
Bel Air
,
Mar Vista
, or
Westwood
? Regardless of your neighborhood of choice, allow
Mary Lu Tuthill
to be your guide to the Brentwood real estate market and beyond. Her years of expertise working in Los Angeles' Westside neighborhoods will ensure an unmatched level of service during your home finding journey.