Located on L.A.'s Westside at the base of the Santa Monica Mountains, Brentwood is a charming neighborhood with a variety of dining and entertainment options for residents and visitors. The area boasts an array of fine dining establishments along San Vicente Boulevard, as well as a selection of farm-to-table eateries, quaint cafés, and coffee shops situated throughout the community. Several of Brentwood's popular food spots are now offering delivery options to enjoy meals from the comfort of home. Check out our list of Brentwood restaurants offering their delicious fare at your doorstep.


Farmshop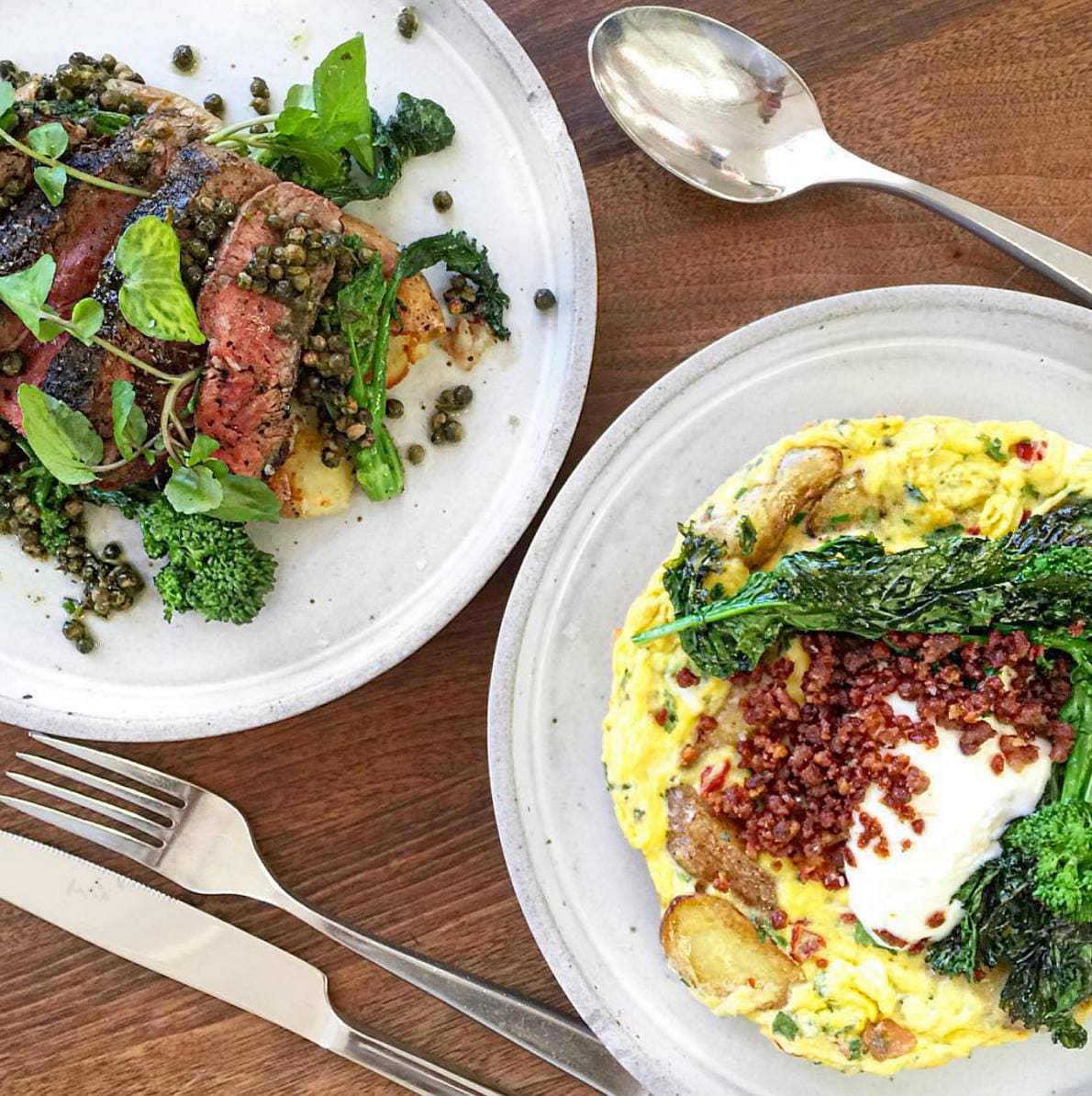 Image courtesy of Farmshop
Located within the
Brentwood Country Mart
,
Farmshop
is a dining establishment that's apart from the rest. Nestled within the barn-esque atmosphere of the Country Mart, Farmshop is part high-end restaurant and part neighborhood grocery store offering organic produce, meat, fish, and artisanal products and ingredients.
Chef and owner Jeff Cerciello has built a loyal following of patrons drawn to Farmshop's seasonal menu of innovative breakfast, lunch, and dinner fare. Despite the time of year, some of their most popular dishes include roasted chicken with Moroccan chermoula-marinated carrots, deli sandwiches served on fresh baguettes, and their selection of cookies and pastries.
Farmshop's restaurant-meet-grocery store model has become even more relevant and accessible in recent months, as customers increasingly cook meals at home, in addition to delivery options.
Their rotating menu of prepared foods includes Farmshop's kale Caesar salad, quiche lorraine, vegan curry, curried chicken salad with golden raisins and almonds, pearled farro with pesto, Marcona almonds and dried figs, and a variety of other dishes.
Farmshop also offers an abundance of grocery items for purchase. Whether you're shopping for pantry staples—such as avocado oil, organic chocolates, cashew butter, or pasta sauce—or artisanal cheeses, baked goods, pasta, produce, or meat, the shop has everything on your shopping list.
Farmshop's Brentwood Country Mart location is offering delivery (within a 30-mile radius) of grocery and prepared food orders, as well as curbside pickup. Customers can place orders by calling
(310) 566-2400
or
ordering online
.
Katsuya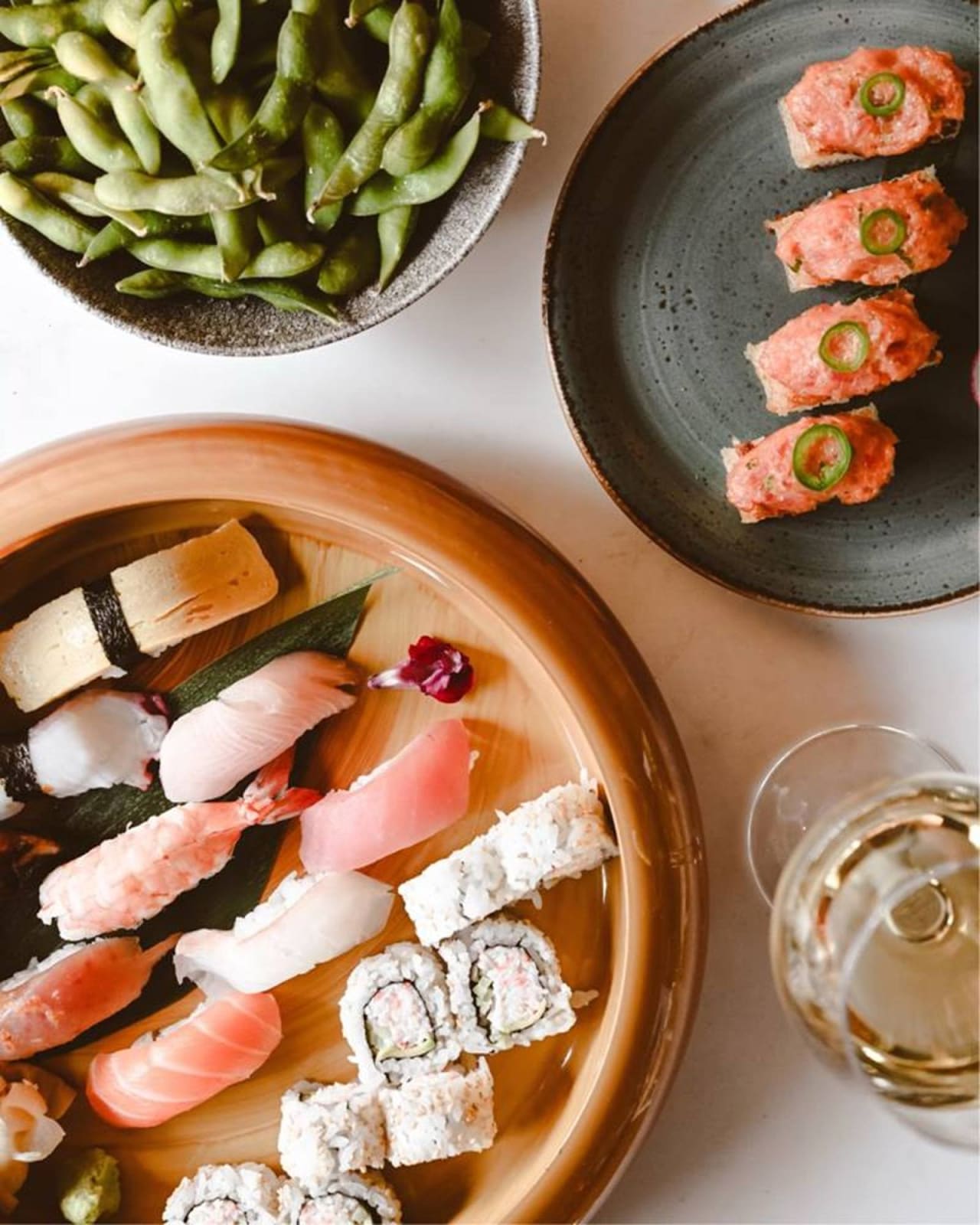 Image courtesy of Discover Los Angeles
Katsuya
is the culinary creation of master sushi chef Katsuya Uechi and design impresario Philippe Starck. The restaurant prides itself on offering a true feast for the senses. Serving specialty cocktails, unique sushi rolls, and sushi and sashimi platters, Katsuya's cuisine elevates traditional Japanese flavors with a sophisticated twist.
One of Katsuya's signature dishes is the crispy rice with spicy tuna—perfectly paired with cocktails such as the Watermelon Cucumber Mojito. Order delivery from
Grubhub
for a meal of flavorful and refined sushi and sashimi, familiar classic rolls, and unique grilled side dishes.
Toscana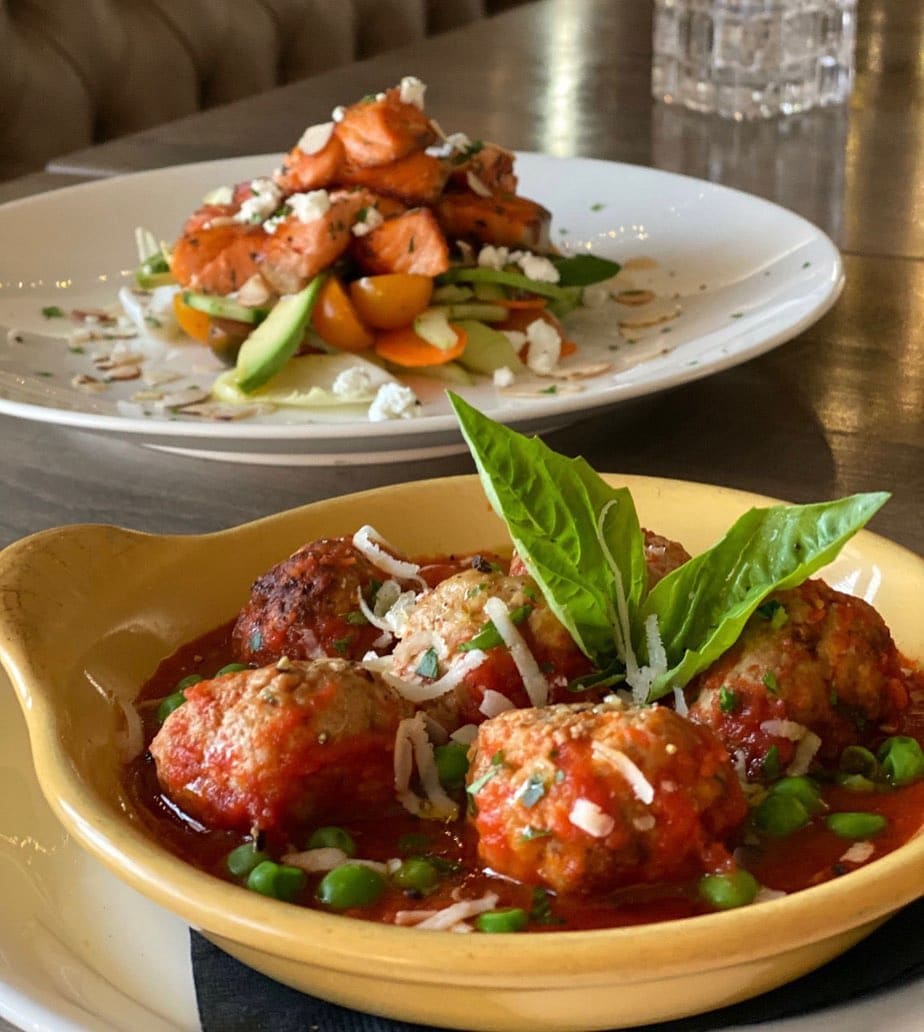 Image courtesy of Toscana
For over 30 years,
Toscana
has continued to be the essential Los Angeles restaurant for rustic, authentic Northern Italy-inspired fare. This neighborhood eatery serves timeless, farm-to-table dishes infused with the flavors of Tuscany. Toscana bakes thin-crust pizzas, meat, fish, and poultry in wood-fired ovens, further amplifying their flavors throughout the cooking process.
Their menu features a variety of antipasti, pasta, pizzas, and proteins. Try the tartufo nero e burrata pizza with burrata cheese and winter black truffle toppings or the rigatoni contadina pasta with tomato sauce, onions, pancetta, and Parmesan cheese. Don't forget about dessert! Their dolce della casa translates to homemade pie by the slice, with flavors offered on a rotating basis.
Enjoy a handmade Italian meal to-go by ordering online on
Toscana's website
.
A Votre Santé
Image courtesy of A Votre Santé
A Votre Santé
is well-known for its menu of healthy Mediterranean cuisine—the restaurant's name is French for "to your health." Located on San Vicente Boulevard, this eatery is popular for nutritious fare made with organic, high-quality ingredients. Since opening in 1987, A Votre Santé has provided a friendly neighborhood gathering place for health-conscious diners.
Hungry for brunch? Browse through their selection of delicious breakfast dishes! A Votre Santé serves pancakes every day of the week and features unique takes on the traditional morning staple, such as organic vegan pancakes made with blue corn and served with banana or yellow corn served with blueberries. Their organic oatmeal pancake is gluten-free and made with oatmeal and oat bran. Each variation is drizzled with all-natural Vermont maple syrup.
For an afternoon meal, place an order of baked chicken rolls made from free-range chicken, vegetables, tortillas, balsamic slaw, and homemade teriyaki sauce or choose from their wide selection of hearty salads. Even the pickiest of eaters will find a dish they'll love—whether it's the grass-fed Wagyu beef burger, porcini and portobello mushroom pizza, or sesame-crusted salmon.
Sweet Rose Creamery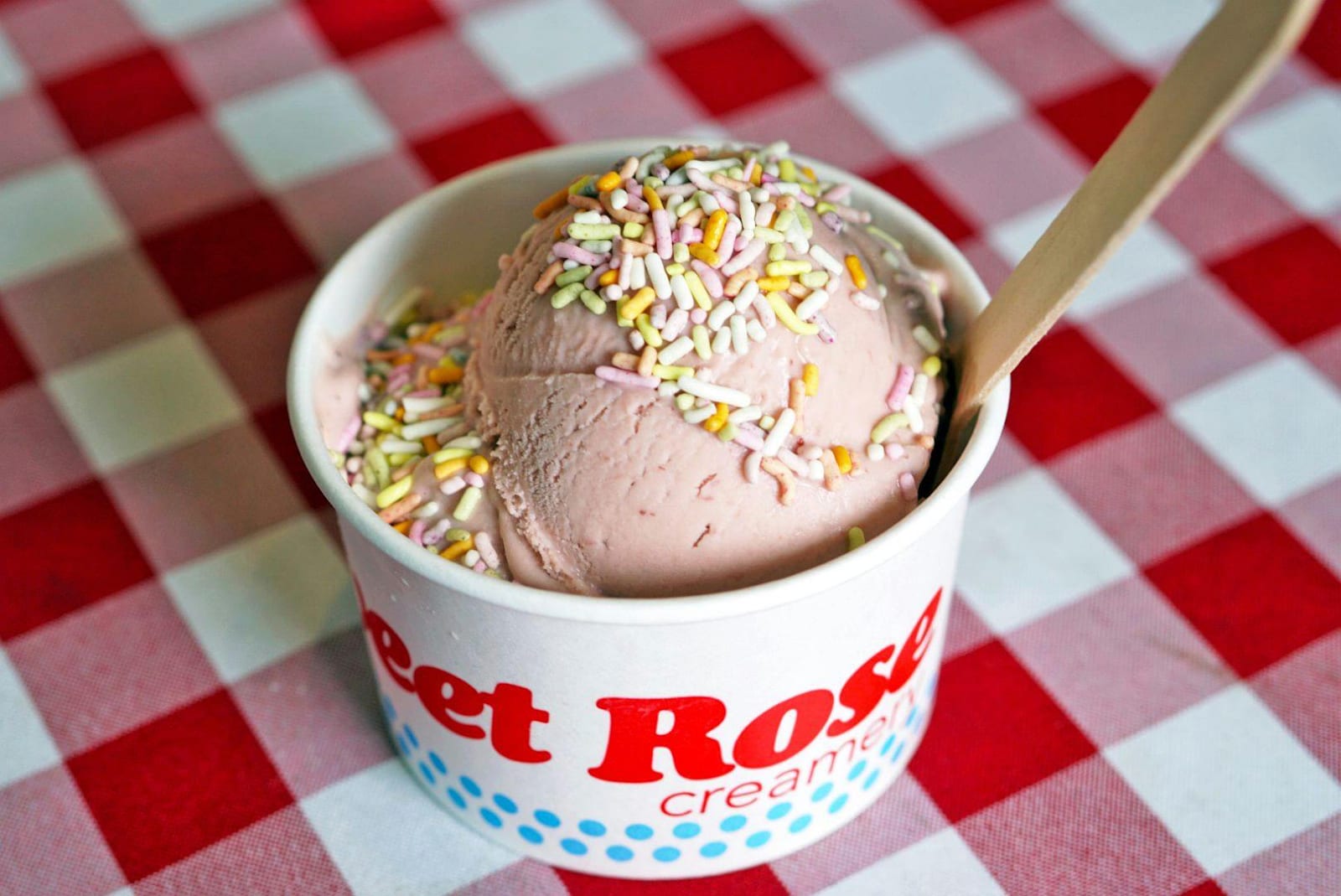 Image courtesy of Sweet Rose Creamery
Sweet Rose Creamery
has created a wide-reaching reputation as an institution in the Southern California ice cream scene. This charming shop is located in the Brentwood Country Mart, where a variety of ice cream and ice cream cakes are churned out for customers in need of a sweet treat. Every item is made from scratch using ingredients from local, organic, and regenerative farmers. 100% of the creamery's dairy products are sourced from Clover Sonoma and every flavor is crafted in small batches to maintain freshness.
Sweet Rose Creamery's first shop was opened in 2010 by partners Josh Loeb, Zoe Nathan, Colby Goff, and Shiho Yoshikawa, who shared a dream of creating high-quality ice cream in a nostalgic setting. Every topping, sauce, and cone is made in-house, ensuring the highest level of quality and attention to detail. The ingredients for much of Sweet Rose's creative flavors are often picked up from vendors at the Santa Monica Farmers' Market.
Daring flavors include summer corn, fig and goat cheese, and horchata. Traditionalists will also find familiar favorites, such as old-fashioned vanilla, fresh mint chip, and Rocky Road. Dairy-free ice creams and sorbets are also available.
Craving an elaborate dessert? Pick up one of their legendary sundaes, such as the campfire with salted caramel ice cream, chocolate hardshell, and topped with torched marshmallows and graham cracker crumbs!
For those willing to share, the party sundae features a staggering eight scoops of ice cream, fresh-baked chocolate chip cookies, brownie bites, marshmallows, hot fudge, chocolate sauce, caramel, whipped cream, and crispy almonds and cherries. The shop's popular ice cream cakes are another shareable option to celebrate any occasion.
Pre-order online for curbside pickup and local delivery options. To pre-order, customers can either call directly at (310) 260-2663 or order online through ChowNow. Options are also available to get ice cream pints, homemade toppings, ice cream cakes, and other items delivered through
Postmates, UberEats,
GrubHub, and
DoorDash.
Chaman Kabob Restaurant
Image courtesy of Chaman Kabob Restaurant
Chaman Kabob Restaurant
is a Brentwood-based restaurant serving halal kabobs, vegan and vegetarian dishes, wraps, and other fare inspired by the flavors of Afghan cuisine. Situated in the Lone Tree Plaza, Chaman Kabob is known for melt-in-your-mouth lamb, chicken, and pillowy naan bread. Their food is so delicious and flavorful customers travel well outside the area to enjoy the restaurant's unique offerings.
With an extensive menu, the biggest challenge is narrowing down the selection! Choose an appetizer to cleanse the palate, such as their borani banjan made with eggplant roasted and marinated in tomatoes, topped with garlic yogurt, and served with housemade flatbread. Their menu includes several varieties of kabobs, from lamb shank to shrimp to mahi-mahi. Meatless options are also widely offered.
Visit Chaman Kabob's
online menu
to order delivery from a selection of delivery options.
Interested in learning more about the food scene in
Brentwood
and the surrounding
communities?
Contact
Mjary Lu Tuthill
today. Her years of expertise and dedication working in the Los Angeles' Westside neighborhoods will help ease the process of finding the perfect piece of Brentwood real estate or luxury real estate in L.A.'s competitive real estate market!