Living at the beach has more than its share of perks- that delicious sea air, the hypnotizing sound of the waves, not to mention the stunning views. That said, beachfront living also means your home is exposed to the elements. With a little preparation and preventative maintenance, you can keep your beachfront home in optimum shape throughout the seasons.


Use High-Quality Paint
The fresh, salty air and sunshine feels good on our faces, but just as we protect our skin from the elements, we must also protect our homes. Consult with your professional painter on the highest quality paints to best protect your oceanfront home against the unrelenting sun and salt water spray. There are different schools of thought on oil-based paint versus acrylic-based paint, but ideally, you want the paint job to protect the "skin" of your home for as long as possible.


Avoid Metals Where You Can
Over time, salt buildup causes corrosive damage to metal components. Use fiberglass framed doors and windows where you can. Vinyl and aluminum are also an option, but are not as resilient as fiberglass. Stainless steel materials also do well, but are subject to a minimal amount of rusting. Check with your builder or handyman for the best options to maintain the luster of your home.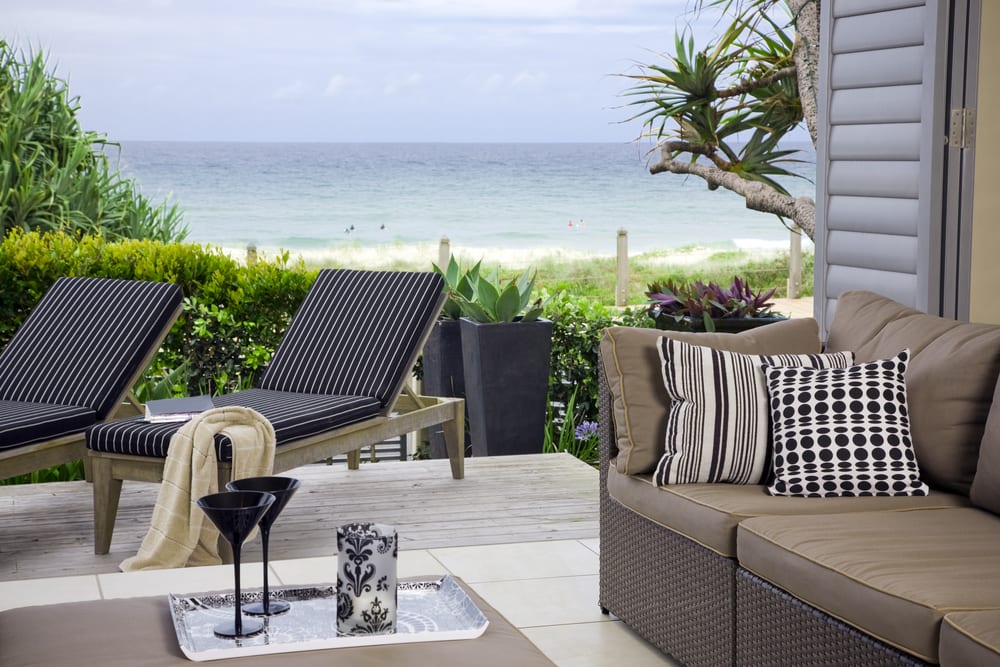 Protect Outdoor Furniture
There's nothing like dining alfresco while enjoying the sunset, or enjoying a good book while lounging on the deck. Outdoor living is one of the major benefits of residing in Southern California. It also means your patio furniture can take a real beating. Protect your outdoor furniture by covering it when not in use and overnight, and by rinsing it off weekly. Dry with a soft cloth so that rust doesn't find its way in to fine cracks. Here's a quick reference guide on maintaining your outdoor furniture:\
Teak: First, when shopping for teak pieces, choose premium grade, kiln-dried. Teak is known to be quite durable, but if it's not maintained properly, it will lose its deep, original color and fade to a dreary grey. Check with your hardware store for the best oil and soaps to keep your teak wood furniture luxurious.
Wrought Iron: Iron is highly susceptible to rusting, but its beauty and charm often sway the vote against practicality. For the best quality, choose galvanized wrought iron. Powder-coated iron is also a good choice. To protect wrought iron, hose the furniture down and use mild liquid soaps for cleaning. Dry thoroughly and apply a spray wax for extra protection.
Cast Aluminum: Cast Aluminum wins for "Most Likely to Succeed" against rusting and fading. Rinsing and drying the pieces should keep them maintained, along with a coat of wax to counter any water damage.
Fabric: For best results, choose polyester, 100% acrylic, or vinyl fabrics for your outdoor cushions and pillows. They dry quickly and resist mildew. For longevity, store your cushions inside when not in use, as even the sturdiest fabrics will succumb to the elements over time.
The Wicker Family: Rattan, bamboo and similar soft materials are voted the "Least Likely to Succeed" against the elements, but again- they do hold some decor appeal on a front porch. If you decide to indulge in a lovely bamboo set, try to find weather-resistant pieces, and clean and wax weekly.
Beachfront living is even more rewarding with a minor amount of preventative maintenance.